Lahinch in County Clare, Ireland, has been a centre for surfing in Ireland since the late 1960's. The local club in Lahinch hosted the European surf championships in 1972.

Tom Buckley became interested in surfing in the late 1980's. It all started for Tom and Rosemary Buckley as a result of a chat in a pub in Liscannor, County Clare, which led Rosemary and Tom to buy the original shop on the
prom in Lahinch in 1989, which became the first dedicated surf shop in Ireland. - Thanks to Colm Toner from Kilshanny Garden centre for the inspiration and Gerry Collins from Great Outdoors Dublin for pointing us in the right direction for suppliers.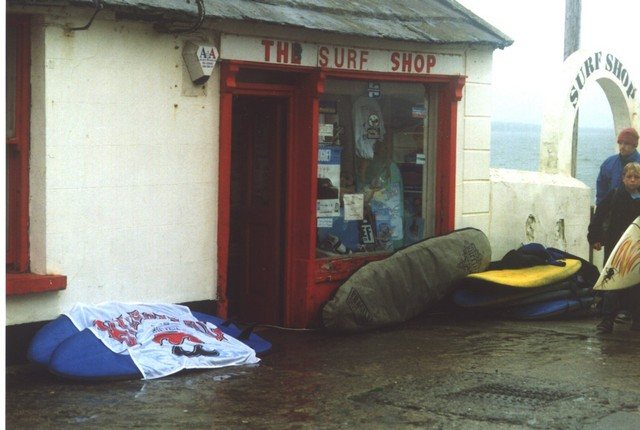 Many people thought we had lost the plot. We had some very strange reactions including people trying to back horses as they thought that the word Surf was really Turf. However,the shop prospered and we eventually rebuilt on
the same site, which is now our current shop.

Over time, we have introduced many brands to Ireland, most of whom have stayed with us and given us an excellent service We hope to continue to support surfing in this area by supplying equipment of a high quality to all surfers of every standard and helping the local club in whatever way we can. We operate a trade in policy for children's wetsuits and some good condition surfboards against new equipment.
This gives many the chance to obtain good used childrens wetsuits and boards. We also sell surboards on consignment for the local surfers who prefer to let us deal with potential buyers on their behalf

The shop was so popular for surf info that we started the daily surf report on the web along with a live webcam.

We continue to stock the best quality surfboards, wetsuits, fashion and accessories
The late Tom Buckley revived West Coast Surf Club, one of the oldest surf clubs in the country, to help build the surf community around Lahinch. Tom and Rosemary's daughter Eileesh is regularly involved with Irish Surfing, including serving as it's first female chairperson in 2011 after many years as it's treasurer. Their son Thomas is a surfer and product designer developing a range of keepsakes for the shop.
For the first decade and a half of the shop's existance we provided surf lessons and equipment rentals but with the opening of a dedicated surf school in the village we decided to concentrate solely on retail. There are now a number of surf schools in the village of varying sizes and offering a variety of equipment rentals.
Today the shop is still owned and operated by Rosemary Buckley with her daughter Eileesh and son Thomas. We have one further permanent staff member, Cliodhna Fawl and during the summer we have had a variety of cousins and local surfers as seasonal employees.