Alder Wetsuits was a dream, originating from one man's passion for surfing.
Over 50 years ago, Bob Westlake began to surf around the west coast of England. He soon discovered a niche in the surfing market, with a lack of Californian style surfing wear being available in the '60s.
This prompted Bob's wife, Annie Westlake, to make some of the first boardshorts in the UK. With growing sales and increased demand for surfing products, the opportunity arose for a business development that is today 'Alder Sportswear'.
Alder now has an established track record and strives to move the growth of its business forward with innovative technology and design, combined with a competitive strategy.
Product developers have years of experience within the surfing industry which leads Alder to boast a very exciting and advanced wetsuit and accessories range.
Our fitting advice
As a general rule we find that Alder's adult wetsuits and boots are narrow fitting while their junior wetsuits are quite wide fitting.
For ladies wetstuits they are a narrower fit at the shoulder than the other wetsuit brands and generally small fitting, most customers go a size bigger than their normal Irish dress size, e.g. if you're normally a 10 go for a 12.
For the men's suits they are particularly long fitting, so if you're accustomed to needing the Tall variant from other brands like C-Skins, O'Neill or Rip Curl the standard version of the size in Alder will very often be correct, e.g. if you're a Medium Tall for C-Skins, the Medium in Alder will be at least as long.
Typically the junior age 16 will fit petite ladies as well but it is a straighter cut than the ladies wetstuits.
Alder are our budget brand, you will get good value on their range of products if they are the appropriate fit for your shape.
All of the Alder size charts are below, we are adding these to the appropriate products as the site develops.
Size Charts
Footwear
Headgear
Gloves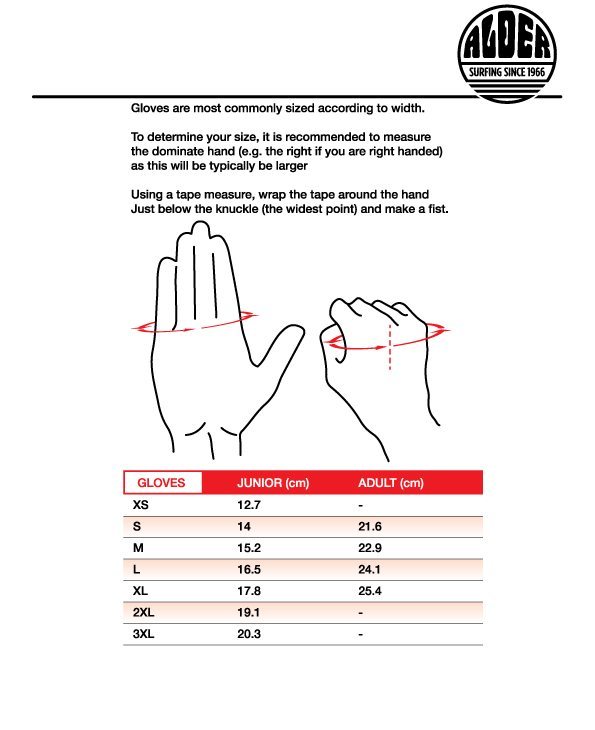 Wetsuits